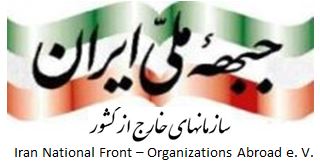 Dr. Ahmed Shaheed
United Nations Special Rapporteur on Human Rights in Iran
Dear Dr. Shaheed,
We thank you again for your continuous pursuit in preparing and submitting reports on gross violations of human rights in Iran committed by the Islamic Republic. We wish that you continue to inform the world about the violations of human rights in Iran.
The Iran National Front-Organizations Abroad, representing the oldest pro-democracy political organization in Iran, considers its responsibility to pursue both the establishment of democracy in Iran as well as popularizing violations of human rights in Iran.
In our letter to you in February 2013, we presented the evidence on the painful situation of political prisoners as well as the government's endangering the lives of the people by the massive use of dangerous radio waves to disrupt the satellite television and radio programs and state-provided polluted petroleum causing deaths and illness.
In this letter, we would like to inform you that after the presidential elections (which had no resemblance to democratic and free elections), the massive gross violations of the human rights of the Iranian people has not ceased and various groups such as women, religious and ethnic minorities, and workers continue to be victimized by the regime.
The massive numbers of executions continue. For example, on August 22, 2013, at least 23 persons were executed in different parts of Iran.
The political prisoners are under constant risk of being subjected to tortures. They are constantly exposed to beatings and solidarity confinements. The mental and physical pressures on the political prisoners are so sever and extreme that many of them cannot tolerate the situation and commit suicide.
Occasional and illegal interrogations, severe tortures, death due to tortures, lack of medical assistance have become normal and routine matter in the prisons of the Islamic Republic. Mr. Sattar Beheshti, Mr. Afshin Osanloo, Mr. Alireza Karamkhairabadi and tens of other political prisoners have lost their lives due to tortures and lack of timely medical attention in prisons. Mr. Mohammad Jarahi, a painting-worker and a member the Painting Workers Union of Tehran, is on the verge of death due to thyroid cancer and the lack of adequate access to health care in prison. Mr. Reza Shahabi, a bus driver and a member of the Executive Committee of the Vahed Bus Company Union, is in a critical health condition due to lack of care after a surgical operation for cancer. He has gone on medical strike since August 11, 2013 in protest against the maltreatment by the jailors and clinic officials. The prison clinic officials have refused to provide him the medicine that he needs and only provide him pain-killers. Mr. Behnam Ebrahimzadeh is in prison for defending the rights of workers and children prisoners. His family is in dire need of basic food and he, who is the sole bread-winner of the family, is in prison. His only child is suffering from Leukemia and he cannot be with him during the treatment. Mr. Rasoul Bodaghi, a teacher who is in prison for being member of Teacher's Association, has been transferred to Rajaeishahr prison since August 1, 2013, and is chained to the hospital bed.
Mr. Hossein Ronaghi, the famous blogger and human rights activist, is suffering from many diseases such as hypothyroidism, kidney failure, angina, cystitis, prostate, gastrointestinal, and hemorrhage. He has been not been given permission to receive treatment out of prison. Since August 9, 2013, Mr. Ronaghi has gone on hunger strike to protest his inhumane treatment. His mother (who is out of prison) has also gone on hunger strike since August 20 to protest the maltreatment of her son. Mr. Shahin Dadkhah, who is suffering from kidney failure, has not been permitted to receive treatment out of prison.
The Iran National Front-Organizations Abroad e. V. emphasizes that the systematic massive violations of the rights and freedoms of the citizens of Iran have continued after the election of Mr. Hassan Rowhani. Like other human rights organizations and pro-democracy activists, the Iran National Front-Organizations Abroad will continue to provide you documents and testimonies relating to the violations of human rights in Iran.
Best regards,

Executive Committee of the Iran National Front - Organizations Abroad e. V.
Kambiz Ghaemmagham, Bahman Mobasheri, Homayoun Mehmaneche
September 1st, 2013